12/30/2014 0:00:00
The year is coming to a close with the promise of 2015. Here`s a quick look back at some of the headlines from Miami Springs.
Police Rescue Girl in Human Trafficking Case
The year started off with the Miami Springs Police rescuing a young woman being held against her will at the Comfort Inn at 5301 NW 36 Street.
The young woman was allegedly abducted from Orlando in November by Kimberly Agorilla, 26, and Demetricks Cooks, 27, and forced into prostitution here in Miami.
Click to read more.
Lottery Winner!
Then, on January 13th, someone in Miami Springs got lucky by winning $53,649.14 from the Florida Lottery`s Fantasy 5 Game. Click here to read more.
Love Triangle


On January 30th, the Miami New Times published an article about the fallout from the Wally Clark, Art Jansik, and Dana Estabrook love triangle and the
restraining order on Wally Clark. Click to read more.
Police Protest against the City
On February 10th, a score of off duty police officers and supporters held a demonstration across from City Hall along Westward Drive. They held up signs that
read "Support Miami Springs Police", "The City doesn`t care about what is most important, YOUR SAFETY!", "I will die for you. What does that cost?", and many
more signs in support of the Miami Springs police.
The Miami Springs Police along with the Police Unions were working on getting a new contract. Miami Springs officers had not received
a cost of living increase during the past 5 years.
At 7pm, the officers and supporters concluded the outdoor demonstration and moved into the Council Chambers for the regularly scheduled Council Meeting.
City Attempts Noise Ordinance Change
In early February, the City had moved towards allowing loud noise in Miami Springs until midnight. Garcia, Lob, Windrem, and Bain all voted for allowing "noise"
up to midnight. That includes weeknights.
The proposal to change the Miami Springs noise ordinance was dropped Monday, February 24th at the Miami Springs Council Meeting. All 5 on council voted no on the
second reading after initially voting for it 4 to 1 on the first reading 2 weeks ago.
The council chambers were filled with police officers protesting for a new contract and concerned citizens who did not want to see a change to the noise
ordinance. Speaker after speaker came up during Open Forum and explained their displeasure to the noise ordinance proposal. By 9pm, the message was loud and
clear and the council nixed the proposed ordinance change. However, the mayor did hint that a future change on the noise ordinance may be addressed in an
upcoming council meeting
$8 Million Losses at Golf Course
During this council meeting, Officer Jorge Capote highlighted over $8 million in losses at the golf course. See the video below:
On March 3rd, The Miami New Times also highlighted the losses at the golf course and the DUIs of the former Miami Springs Golf and
Country Club Director, Michael Aldridge. Read more.
Sting Operation at IHOP


On March 5th, the Miami Springs Police setup a sting operation at the IHOP on northwest 36 street and sure enough they caught a suspect attempting to break into
a decoy vehicle. Read more.
Marijuana Grow House Bust
In March, The Miami New Times posted an article on the sad marijuana grow house busted in Miami Springs. According to published reports the man was busted
in an efficiency on the 200 block of Shadow Way. Read more.
Golf Course Land Sale Vote
In April, there was a special election to allow the sale of a small piece of the golf course, that was mostly a paved parking lot, to the current owner of the
old James Medical Center on Eldron drive.
The NO votes won taking 1,039 votes or 53%. The YES votes had 908 votes or 47%. The margin of victory was 131 votes.
River Cities Festival
Of course, in April we had the annual River Cities Festival. Fred Suco, from Woodys West End Tavern, sponsored the Friday Night Headliners including Tito Puente
Jr. and Hansel y Raul. Click to see hundreds of pictures from the event.


Plus, on the Saturday night of the Festival we had performances from Ray Guells, Rudy Gil from Secret Society, Susan from Company
B., and Erotic Exotic performing live.
MSSH MEGA REUNION


The Saturday night was also the annual Miami Springs Senior High MEGA Reunion with thousands of folks coming back to see old friends and make new ones as well.
Click to see hundreds of pics from the weekend.
Pool Forums
On Friday, April 25th, the City conducted 3 forums on the municipal pool project and began an anonymous online survey to use for its pool design. More on that
below.
Father Carney Way Dedication
On April 27th, the City of Miami Springs designated a portion of 59th Avenue (behind Blessed Trinity Catholic Church) as Father Carney Way in recognition of what
Father Carney meant for so much of our community.

Body Found in Canal
On April 27th, a body was found floating in the Miami Canal. Miami-Dade Police Divers were called out to retrieve the body of the dead woman. Read more.

Knife Wielding Man in Bird Section
Theo Karantsalis had an early May report published in The Miami Herald about a man who allegedly went on the attack in the Bird Section. According to the
article, police were called at 2am regarding a report of a knife wielding man running along the 500 block of Raven. According to the article, the man was
attempting to acquire free services from a female escort. Read more.
Man Barricades Himself in Home
On May 13th, Miami Springs Police and Special Response Units surrounded a home on the 600 block of Quail Avenue, one block south of Miami Springs Senior High.A
suspect with a gun had barricaded himself inside the home. After a pateint 4 hour standoff, the suspect was safely apprehended and identified as William Deno.
City Invests Quarter Million on Stafford Park Field
In May, Theo Karantsalis reported on how the City has voted 5 – 0 for a quarter million dollar investment to improve the field at Stafford Park. The project includes removing all the turf and grass, laser grading the field for improved
drainage, removing the existing sprinkler system and installing a new one, and laying new turf. Read more.
Spring Spike in Residential Burglaries
In the spring, Miami Springs had an unusual amount of residential burglaries. Miami Springs police followed up with a crackdown.
On May 22nd, Chief Baan announced the arrest of the suspects who had allegedly been burglarizing multiple homes in the bird section during the spring. "Miami Springs Police Detectives, in response to the recent increase in burglaries,
were conducting surveillance when they observed two subjects casing homes and looking into vehicles in the west end of the city. These subjects entered a vehicle driven by a third subject. They were stopped and subsequently arrested.
They were found in possession of rubber gloves and burglary tools and two of the subjects have criminal records for burglary. These subjects most likely responsible for recent residential burglaries committed in the City."
On May 27th, we reported on more bad guys captured by the Miami Springs Police. :
"This morning an MSPD Officer observed a vehicle occupied by two subjects that had been casing a residence in the east end of town. As the officer approached the vehicle, it fled. The vehicle was eventually stopped at Westward Dr. and
Ludlam Dr. The occupants had extensive criminal records, were in possession of burglary tools and could give no reasonable explanation for their activities. They were subsequently arrested and charged with Loitering and
Prowling."
Alleged Pervert Arrested
According to an article by Theo Karantsalis, Miami Springs Police arrested Efrain Hun on Thursday, May 22nd, on charges of indecent exposure. According to the article, he was pleasuring himself while looking at young girls at Miami
Springs` Dove Park. (Across from the high school near the Dog Park.)

Alleged Stalker Arrested
In June, Wally Clark reported on a 55 year old man arrested and charged with loitering and prowling and carrying a concealed weapon. Despite the relatively minor charges, police feel that the arrest prevented the potential of a much more
serious crime. Click for full story.
Initial Pool Concepts


On June 16th we reported on the initial Miami Springs Pool Concepts designed by Bermello Ajamil & Partners, Inc. All of the initial concepts were greater than $5 million with the exception of renovating the existing pool for $4.5
million. Read more.
Best Bar
On June 19th, we reported that the Miami New Times had selected Woody West End Tavern the "Best Bar, West Miami 2014." Read more.


Hybrid Pool Concept


On June 23rd, we reported on the first showing of the Hybrid Pool concept. Aside from renovation, this has basically been the only design considered by the city under $5 million. Read more.
July 4th
On July 4th, Miami Springs had its annual 4th of July Festivities. Click below to see all the parade pics.

Police Kill Man in Miami Springs
On July 8th, Miami-Dade Police shot and killed a suspect after a wild chase that began near Dadeland Mall and ended in an alley behind South Drive in Miami Springs. Read more.

Lower Taxes in VG
On July 28th, Theo Karantsalis published in The Miami Herald, the Village of Virginia Gardens is set to lower their taxes by at least 5%. The new VG millage rate is 5.150. By comparison, the City of Miami Springs recently proposed a
millage rate of 7.6710 or 49% higher than the V.G. millage rate.
Armed Robbery at Subways
On July 30th, there was an armed robbery at the Miami Springs Subway on 36 Street. See the video below:
MSSH Grad Killed in Accident
On August 7th, recent Miami Springs Senior High School graduate, Nohely Pichardo, 18, was struck and killed on the Florida Turnpike near Griffin road during the early morning hours of Thursday, August 7th. Read more.
Captain Kahn Should be Chief
September 1st, Wally Clark wrote an op-ed piece discussing the retirement of Chief Baan and suggested that Captain John Kahn should be the next chief. Read Wally`s op-ed
piece.
Residents Speak Up
On September 9th, residents speak up at the council meeting on the new pool, new chief, alleyways, and the building inspectors.




MSSH Alum Dies in Boating Accident
On October 13th, we reported on another Miami Springs Senior High Alum, 29 year old Maria Del Valle, who had died on a Columbus Day Weekend boating accident. Read
more.

$23,000 in Gear Stolen
October 26th, Theo Karantsalis published a report in The Miami Herald where the SMU girls` volleyball team had $23,000 in gear stolen from their vehicle while having dinner in Miami Springs. Read more.
88 iPhones Stolen at IHOP
October 27th, Theo Karantsalis reported on the theft of 88 iPhones stolen at the IHOP on northwest 36 street in Miami Springs. Read more.
Bryan Avila Wins District 111


On
November 4th, Bryan Avila won the election to represent Miami Springs, VG, and district 111 in the Florida State House.
Eastern Airlines Hiring Agains


November 11th, we reported a story that is near and dear to the history of Miami Springs. Eastern Airlines was hiring again.
Red Light Running
November 24th we shared a YouTube video showing red-light running collission on northwest 36 street and Sheridan.

Circle Chevron Robbed at Gunpoint
On November 30th, a armed gunman robbed the Miami Springs Circle Chevron at gunpoint. Read full story.

Possible Murder-Suicide on Swan Ave
December 7th, Theo Karantsalis reported in The Miami Herald about the deaths of two elderly people as a possible murder-suicide on Swan Avenue. Read more.

Armando Guzman New Chief of Police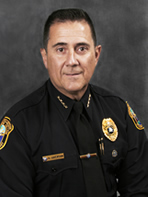 December 10th, the City of Miami Springs announces the new Police Chief as Armando Guzman. Read more.
Eastern Airline Returns
Eastern Airline Returns with the arrival of their Boeing 737-800 to Miami International Airport. Read more.
https://new.miamisprings.com/images/news/20140708-manhunt.jpg