The Miami-Dade Board of County Commissioners has a meeting this Tuesday, March 3rd at the Stephen P. Clark Center in Downtown Miami where the expansion of the TGK Correctional Facility will be discussed.
As you know, Miami-Dade County Mayor, Carlos Gimenez, is proposing a NEW detention center, adjacent to the existing TGK (Turner Guilford Knight) Correctional Facility located at NW 36th Street and Milam Dairy Avenue (NW 72 Avenue).  The new facility would include a 1400 bed Detention Center with a Mental health Treatment Center and full service medical clinic.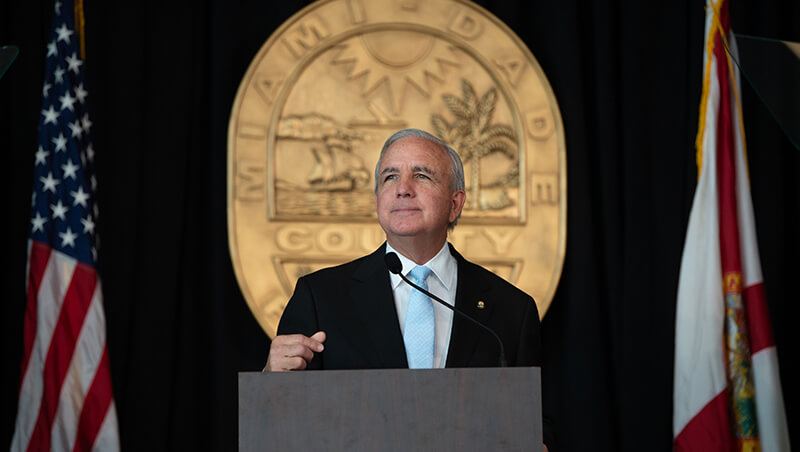 In addition, the proposal includes a 556 bed Intake and Release Center.  This needs to be restated.  We're talking about over 500 beds for prisoners who may come in, sleep the night, and are then released within a day or few days.  In other words, we can expect hundreds of criminals to be released from the area of NW 36th Street and 72nd Avenue on a weekly basis.  Add that up and you're talking about thousands of criminals released in the area.
So, what are these people going to do after being released?
The lucky ones, will get picked up by family and or friends and driven away.  Others may seek private or public transportation.  Others will loiter around the area seeking food and shelter.
Virginia Gardens already gets some folks who get released from TGK who wander into the Village.  So, it's a simple math equation.  Increase the number of criminals released next door, and you increase the amount of criminals entering our towns.  It's simple math.
As is, TGK is already a horrible place for a jail.  it's smack in the middle of one of Miami's busiest tourist corridors:  NW 36th Street.  Tens of thousands of tourists come out of the Airport and head to NW 36th Street to stay along Miami Springs Hotels, the new Hotel in VG, hotels literally diagonally across from the jail.  Hotels in Doral.  The Trump International Golf Course.  Etc. etc.
From a pro-tourism basis, you would never put a jail on Ocean Drive.  Why does the county want to exacerbate the already horribly located TGK facility with an expansion?
What the County should be doing is figuring out where to put a jail that keeps the criminals furthest away from our residents, our children, our businesses, and our tourists.  Surely, no business in the area (aside from Bail bondsmen and defense attorneys) wants to see an expansion of the facility.  Do we want tourists walking down NW 36th Street running into freshly released criminals?  Talk about easy pickings.
I'm convinced some in Miami-Dade County won't care one lick what the jail expansion will mean to Miami Springs and Virginia Gardens residents. But I'm hoping the County will realize TGK is a horrible location.  It makes no sense to release criminals along a tourist zone.
Now, we have no problem with the overriding concepts about an efficient correctional facility with courtrooms, mental health facilities, and clinical care.  This is good, but it does not belong so close to the residential communities of Miami Springs and Virginia Gardens.  We have enough issues with TGK as a neighbor today.  Let's not make it worse for our residents and our tourists with a location that will literally be releasing thousands of criminal each year.
What can you do?
Stay informed.
Go to the County Commission Meeting Tuesday Downtown starting at 8:30am.
Contact your Miami-Dade County Commissioner (contacts below)
Visit the Miami Springs Council Meeting on March 9th at City Hall at 7pm.
Contact your Miami-Dade County Commissioner:
Rebeca Sosa
305.261.5566
305-375-5696
District 6 Main Office
1000 SW 57th Avenue, Suite 201, Miami, FL 33144
305-267-6377
https://twitter.com/RebecaSosaMiami
https://www.facebook.com/commissionerrebeca.sosa
Jose "Pepe" Diaz
305-375-4343
District 12 Main Office
8345 NW 12th Street, Miami, FL 33126
305-599-1200
https://twitter.com/commishdiaz
https://www.facebook.com/CommishDiaz/