Does the phrase home repairs send shivers down your spine? My mishandling of basic tools does it for me but finding a good repair person is like hitting the lottery in our home.  Sometimes bad stuff happens.
I have seen train wrecks by others occur in my own back yard. To wit: everything was going (opens in a new tab)well until Jimmy, (Not his real name) from the tree service, wiped his lips free of the mayonnaise from the last half of the submarine sandwich he purchased during his 30 minute lunch break and hefted his chain saw which felled the final chunk of the avocado tree which collapsed hitting the palm which fell on the FP&L power line pulling the neutral loose from the house and causing the now loaded truck, which was under the line, to pull slowly away from the danger when its weight suddenly caused the front tires to collapse the top of the septic tank we didn't know was there and made the sound that an overloaded and ancient truck would make when it does something like that. (Thank you….yes, it was an award winning run-on sentence!)
The avocado tree was planted too close to the house and might have caused serious damage if it fell, had we let the termites finish chewing through it without even tasting the delicious avocados, had they the taste buds. It wasn't the fault of the previous owners who probably thought it was such a cute little tree when they planted it, not realizing that trees grow.
Owning an older house means never having to say you're finished. We moved into 'Green Acres' meets 'The Money Pit'.  The good news about an 'older' house is that when it was built, it was built to last forever, not so the electrical, plumbing and air conditioning systems. Let's forget the fact that cracks will appear as our houses settle into the sandy soil 6 feet above the water line.
If I pick up anything that even looks like a tool, I'm to be whipped with the business end of a plastic cable tie. No, I will not enjoy the sensation. The closest I come to repairs around here is watching 'This Old House' so I can pick up the lingo, and sound erudite about the edifice when I try to impress the neighbors.
It wasn't always like this. At one point in my life, I had a good sense of how things worked. Not so now. Our clothes dryer stopped working and I figured that with the few moving parts I could see, how hard could it be to fix? I took it apart and found out how hard it could be. It was a gold mine for the repairman because he had to spend an hour re-assembling it to find the problem. It was me! After the fix, he said to call him any time, day or night. He's got a child who needs braces and will soon go off to college.
My tool kit, and I know some of you can relate, is a converted band-aid box containing a variety of colored paper clips, an eyeglass screwdriver, and some electricians tape so old it's got Thomas Edison's picture on the package.
Confidentially, I don't want tools around the house cause then I'll be expected to use them. I'm lucky if I can distinguish a crescent wrench from a crescent roll.
I have learned some useful handyman tidbits along the way. I've learned that a pick Axe is not the right tool with which to dig roots, especially when the roots are near a water pipe. It's amazing how high that water will spurt. Over the roof actually.
I have also learned that when you drill a hole in a closet wall to seat a butterfly screw for a tie- rack that you will seldom use, check whose shower is on the other side. If it's your wife's, try to minimize the damage with a sealant that will blend in with the tile you've ruined.
The best lesson is that it's far easier to write about home repairs than attempt them.
---
Editor's Note:
When working with a contractor make sure to get a written estimate before you get started.  Also make sure the contractor is licensed and insured.  We highly recommend the following local contractors that are licensed, insured, will provide you an estimate before starting their work, and have an outstanding reputation in Miami Springs.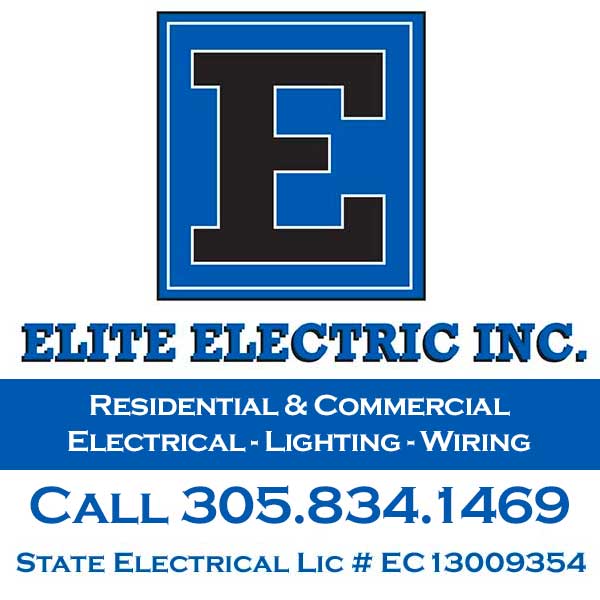 ---